What makes us different?
Period
Restoration
1
Lenarduzzi Builders has established a name for their fine craftsmanship in period restoration and heritage conservation as well as for creating beautiful contemporary construction.
Heritage Conservation
2In 2007 the Company was selected as a suitably experienced specialist building contractor for the Historic Houses Trust of NSW to carry out conservation works on their properties across the state as part of the Endangered Houses Fund Program.
Contemporary Construction
3
We have a proven record of working closely with architects and designers in the construction of modern contemporary or period style homes.
Established Experienced Team
4Our well organised team of fine craftsmen has been working together for a long time and we take pride in offering customised personal service.
Experienced Craftsmen

Backed by over thirty years in the trade and building the Highlands since 1983, Lenarduzzi Builders is as renowned for their fine craftsmanship and accountable project management as they are for their attention to detail and strong communication and professional service.
Our established, committed and highly skilled team of tradesmen demonstrates expertise in all aspects of building by:
Attaining and practising a high degree of craftsmanship in the restoration of homes, business premises and the building of new major work.
Ensuring that client aspirations for their property are achieved by fostering clear communication with the architects and/or client throughout the entire project.
Professional Project Management
Our focus on the delivery of outcomes leading to complete client satisfaction and we are committed to:
Providing professional service while providing a totally managed project environment with one point of personal contact.
Delivering accountable project management to a high standard.
Adhering to completion timelines and budgets.
Clear communication.
Time management.
Full Service

We pride ourselves in our:
Sound knowledge of the locale.
Attention to detail.
Ability to provide innovative solutions.
Seamless integration with the architect.
Recent Heritage Awards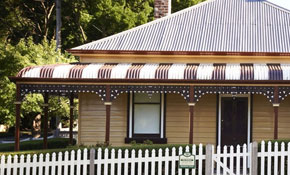 2013 Winner of the Wingecarribee Heritage Awards and the National Trust Heritage Award for Restoration of Bradman's House, Bowral.
Read More
Our Clients Say…